What better way to celebrate the bride on her special day than to take her on a bachelorette wine tour with the best wine tour company in the Okanagan! Your bride just needs to sit back and relax with her amazing friends, laughing and having a fantastic time, while a professional guide entertains your group, as they take you through some of the most beautiful scenery through two of the best wine regions in the Okanagan Valley.
Have more fun and more wine tastings with Uncorked Okanagan Wine tours as we take you on fun filled day exploring new and unique boutique wineries along the Westside Wine Trail n West Kelowna or Bottleneck Drive in Summerland, that are sure to make for a fabulous day! With Uncorked, you'll enjoy more wine while skipping the line, as all of our wine tours are booked well in advance.
Taste crisp whites, bold reds, lush rosés, and everything in between! We even have a tour that satiates every craving with wine, beer, cider, and spirits!
With over 10 years of experience organizing bachelorette wine tour parties, over one thousand 5-star reviews on Trip Advisor, and over 11 thousand followers on Facebook – Uncorked Okanagan knows how to plan the perfect day for your bride-to-be!
Organizing a Bachelorette Party?
Here at Uncorked Okanagan Wine tours, we specialize in helping you organize a fun and safe event that your guests, and most certainly the bride, will remember for years to come!
Our wine tour specialists are dedicated to building the perfect itinerary at some of the best, most exciting wineries and venues that are special for your bachelorette group and will help you to design the ideal event for you bride's special day.
Uncorked Okanagan hosts THE MOST bachelorette wine tours in the Okanagan Valley, so our specialists know their stuff! We will match you with a guide that suites your group's personalities to a tee, as they entertain and wow you with their wine knowledge, all the while taking photos for your group to commemorate the days' celebration, which we post to our company Facebook page for you share.
Our 'Celebrate Fun on the Westside' or our 'Uncork and UnWINEd on Bottleneck Drive' wine tours are designed especially for our bachelorette groups in mind; explore the scenic Westside Wine Trail in West Kelowna or the Bottleneck Drive in Summerland like never before – all wine tasting bookings are done in advance, special treatment with designated wine tasting areas are set up specifically for your group, and best of all, you get to wear your bachelorette paraphernalia and props to celebrate her special day, along with many other surprises!
Uncorked Okanagan's fleet of air-conditioned vehicles can accommodate any size group you may have, with three Mercedes Sprinters that carry 11-14 passengers, two 14 passenger vans, and a 21 passenger bus.
Need more information on our bachelorette wine tours and what we offer? Fill out the form below, and you will receive a copy of our helpful 'Tips for Organizing a Bachelorette Wine Tour Party' complimentary ebook and information on our specially designed wine tours which are tailored for your special event.
Please check out our Facebook, Instagram, and Trip Advisor pages, so you can see for yourself just how much fun your group will have on one of Uncorked Okanagan's wine tours!
Get Our Free eBook on Organizing a Bachelorette Wine Tour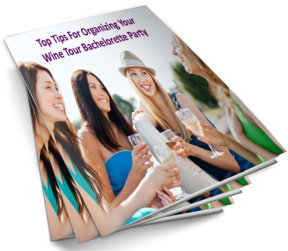 Receive our Free eBook on how to organize a Bachelorette Wine Tour – 'Tips for Organizing A Bachelorette Wine Tour Party' – just by filling out this form.
The bachelorette wine tours that are the most fun, are the ones where the focus is on the bride on her special day. Where she can get away from the stress of wedding planning, relax and spend the day with great friends!
Let us take all the stress out of planning the perfect party – we'll do it for you, and you can be sure the bride will be having the most fun possible, with the best wine tour company possible!