Wine tours are made up of adults (19 years of age and older) who want to have fun, taste BC's best wine and enjoy some of the Okanagan Valley's greatest wineries. All wine tours include an experienced, fun-loving guide who will make sure you have a safe and enjoyable tour.
There will be other like-minded people on the tours with you, providing an opportunity to make new friends and have fun with others.
You will visit 4-5 wineries on your tour. Our selection of wineries varies daily. We will make every attempt to accommodate any special requests – Uncorked Okanagan offers a broad experience, not just the iconic wineries, but also the hidden gems and boutique wineries throughout the Okanagan Valley.
These are our regularly scheduled tours along the West Kelowna and Kelowna wine regions; you pick an area that you would like to see, such as the Westside Wine Trail, Lakeshore Wine Route, Lake Country Scenic Sips, and Bottleneck Drive in Summerland, and book your seat! Our Wine Tours include a selection of wineries described in the tour itinerary.
There will be a break for lunch close by the wine trail at customer's own expense – not all lunch stops will be at a winery, however here at Uncorked, we will make sure your lunch location will have the best food options available.
The number of people on a tour will be relative to how many seats are available. Our vehicles hold 11, 14, and 21 guests.
Private Wine Tours are a cut above our regularly scheduled tours. The upgrade gives you a customized tour with a pickup time tailored to your satisfaction. You and your party have a private vehicle with a professional and experienced wine tour guide all to yourselves. Let us put together a full day wine tour visiting 4 or 5 wineries with a lunch stop at customer's own expense, a half-day afternoon wine tour, or simply give us your suggestions and we will make it happen! The possibilities are endless.
Tastings at the winery are not private, but if you want a private tasting, those arrangements must be made well in advance of your tour. Availability is limited and an extra fee will be charged. Want to book one of our private wine tours? Minimum of 4 people required for private wine tours.
Specialty Guided Wine Tours are tailored for you to discover other wine regions of the Okanagan Valley, such as Ok Falls, Naramata Bench outside of Penticton, south to Oliver and Osoyoos, among others. These custom tours have a minimum of 4 people required to run, and are longer days.
Speak to one of our Wine Tour Consultants for help in planning the ultimate custom private tour for your group.
Other Good Things To Know
WINNER TRIPADVISOR TRAVELERS' CHOICE AWARD 2021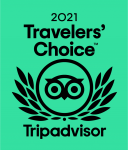 We are absolutely thrilled to announce that we have been recognized as a Tripadvisor 2021 Travellers' Choice Award Winner – putting us in the top 10% of wine tour companies worldwide!
A very big thank you to all our amazing team who have worked incredibly hard over what has been a difficult 16 months, and our fantastic customers who have supported us recommended us, and helped us to achieve this award! 
The Tripadvisor 2021 Travellers' Choice Award celebrates businesses that consistently deliver fantastic experiences to travelers around the globe and have earned great traveler reviews on Tripadvisor over the last 12 months.