Our Kelowna Wine Tours are becoming known as the best way to visit the incredible wineries. With so many to choose from, it can be difficult to find the perfect one. Whether you're a wine connoisseur or just looking for a great day out, Kelowna's wineries offer something for everyone. From touring the vineyard to sipping on award-winning wines, there are countless ways to experience all that Kelowna has to offer.
Located just minutes from downtown Kelowna, The Lakeshore Wine Route and the east Kelowna Wine Bench has some of the oldest vineyards in the Central Okanagan. Wine tour through the orchards of East Kelowna and experience the breathtaking views along the Lakeshore, while discovering a wine region seeped in history.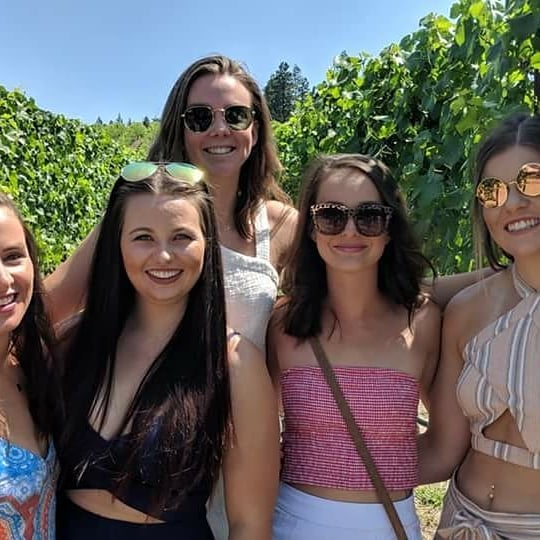 Summerhill Pyramid Winery
Established in 1986, Summerhill Pyramid Winery has become one of the world's top attractions. Being on of the few fully organic, biodynamic wineries – Summerhill's diversity of award-winning wines, their precision-crafted Pyramid, along with stunning lake views, attracts visitors and wine lovers alike from across the globe.  Summerland Pyramid Winery is considered a must-see when visiting the Central Okanagan.
Cedar Creek Estate Winery
Cedar Creek Estate winery is one of BC's first eight pioneering wineries. Open by Senator Fitzpatrick in 1987, Cedar Creek has achieved many awards and international acclaim throughout the decades. In 2014, the winery changed ownership to VMF Estates, which was founded by Anthony von Mandl of Mission Hill fame – who have renovated the space, which has just recently reopened as of September 2019.
A historic vineyard and a first of its kind, state-of-the-art LEED winery, make visiting Tantalus Vineyards a one-of-a-kind experience. Enjoy premium, single-vineyard wines in a sleek, gallery-style tasting room, surrounded by works of art from some of Canada's most acclaimed artists and a stunning view of Okanagan Lake with the vineyards below.
Located right between the two wine routes, Sperling Vineyards is situated on the historical land where Father Pandosy first settled (the site is only a hop, skip and jump away). With over four generations of Sperlings' having farmed the land, the vineyards where first planted in the 1920's where the family achieved commercial success with their wine and table grapes. Jump to 2008, sister's Anne and Susan Sperling, along with their husbands, opened up a small boutique winery right beside their mother Velma's historic Pioneer Country Market – in 2017, the winery became certified organic, and in 2018, the winery expanded, taking over the market that had been a part of Kelowna's history for over 35 years. Through vision and partnership, Sperling wines have become a vinous reality producing elegant wines of character.
Nagging Doubt is a quaint artisanal estate winery located in East Kelowna. Helmed by winemaker Rob Westbury, Nagging Doubt began as a virtual winery in 2010, to the realization of his dream into a vineyard and a tasting room as of 2016. The 5-acre estate vineyard produces around 700 cases and the grapes for another 300 cases are purchased from Southern Okanagan vineyards. Rob and his team make their wines by hand, using a combination of modern and traditional winemaking techniques, including natural fermentations and foot-stomping to ensure a top-quality wine that rivals some of the most popular wineries in the valley.
The View Winery is situated on land that that has been part of the Tarton/Ward family for over five generations. Originally, fresh market apples were grown here until the mid 90's, when the family decided to start planting vineyards and cider apples. Spartans and McIntosh apples gave way to Gewürztraminer, Riesling, Ehrenfelser, and Pinotage vines, as well as apple varieties such as Belle de Boskoop, Chisel Jersey, and Bulmers Norman. The View now produces over 10 thousand cases of wine and cider each year, including their wildly popular 'Bling' Sparkling Wine.
Wyn, Anthony and Marion Lewis opened the Vibrant Vines Tasting room in 2010, and for over nine years, have indulged their passion for creating the best experience for their guests. When you enter the winery, you are given 3D glasses which allows you to see the images displayed on their funky and fun wine labels and wall art. Music is played in the barrel room while the wine benefits from the vibrations. Guests are encouraged to visit the winery and enjoy live music which plays during the weekends and evenings on their outdoor stage.
From the creators of Saxx Underwear, Trent and Ria Kitsch – Kitsch Wines is located on an impressive property which features a large private mansion with the back garage operating as the tasting room. From the there, you will experience a view of the city of Kelowna like no other. Boasting three main varietals of white wines; Riesling, Chardonnay, and Pinot Gris, and one red wine, a Pinot Noir, developed by winemaker Grant Biggs, this winery is sure to be on your list of 'must-sees'.
Located in South East Kelowna on the bench lands, Spearhead Winery boasts premium quality wine which is produced from grapes grown on their estate vineyard and from selected Okanagan Valley vineyards. On the estate vineyard, Spearhead grows Pinot Noir, Chardonnay and Riesling. Around 80% of the 15 acres is comprised of Pinot Noir and four different types of Dijon clones, two California heritage clones, and Pommard – this combination of plantings enables their winemaker to select from different characteristics exhibited by the clones.
Explore the stunning wineries of Kelowna and add a touch of sophistication to your weekend! Don't wait – book your tour today, there are limited spots available! So come on, let's get tasting!